Punk
Canterbury / Whitstable
Mid 80s
Band Members
Edit
Gideon Coe (guitar, vocals)
Mick Corney (guitar)
Mo Clover (bass)
Dom Clark (drums)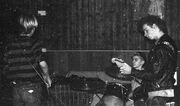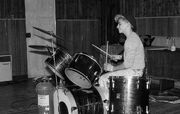 A-Bomb were a young punk band based in the Canterbury area during the 80s, playing a mix of original material and Clash covers.
Gideon Coe became a succesful BBC Radio DJ, currently on 6 Music.
Drummer Dom Clark went on to play in a succesion of local bands, most notably as half of Door Marked Summer's two-drummer powerhouse.
Related Bands
Edit
Recordings
Edit
Whitstable Harbour Lights 2004
Mines not Missles Aylesham
Wye College
University of Kent (Darwin?)
Simon Langton Boys School
Aubreys Wine bar
Chislet Colliery Club (Bingo Night)
Ad blocker interference detected!
Wikia is a free-to-use site that makes money from advertising. We have a modified experience for viewers using ad blockers

Wikia is not accessible if you've made further modifications. Remove the custom ad blocker rule(s) and the page will load as expected.