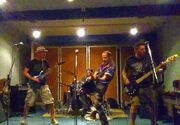 Brendon OverDrive'
(BOD) is a rock band that formed in Ashford in 1989. Although BOD disbanded in 1994, they reformed in 2016 with their 1990-91 line-up:
- Paul Callendar (guitars and lead vocals)
- John Crook (guitars and backing vocals)
- Gary Friend (bass guitar and backing vocals)
- Mark Lane (drums)
The band plays a mix of rock covers and original material.
Related Bands
Edit
Ad blocker interference detected!
Wikia is a free-to-use site that makes money from advertising. We have a modified experience for viewers using ad blockers

Wikia is not accessible if you've made further modifications. Remove the custom ad blocker rule(s) and the page will load as expected.