Experimental / Post-Punk / Industrial
Romney Marsh
early 1985 to present
Band Members
Edit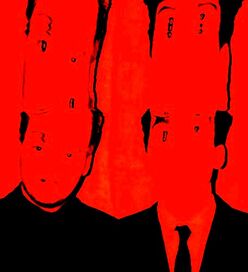 L. D. McBride (vocals, instruments)
Andy H. (vocals, instruments)
Dave Jones (DJ) (bass, vocals)
Paul Jones (drums)
Troy Glover-Smith (drums)

Occasional other musicians contribute to live performances.
Formed initially as a recording project by L.D. McBride and Andy H. in 1985, Nancy's Place's existence has seen them play relatively few times, less than 20 performances over more than 20 years. The phenomenal amount of recorded material they have bequeathed (estimated at well over 100 hours) delves into the dark, disturbing world of the human psyche, invoking comparisons with Post-Punk and Industrial acts such as Throbbing Gristle, Swans, Death In June and Joy Division. Pounding primal songs are interspersed with morbid poetry, unsettling textures, drones and found sounds.
Nancy's Place's rare live performances have become the stuff of cult legend in the local scene, the twisted undercurrents of the music being accompanied by some form of visual performance from McBride. Potted plants, flour, umbrellas, sex-dolls and chocolate cake have all featured in latter-day gigs. The guitarists all play with their backs to the audience, and a continuous backing tape drone gives rise to the misconception that they only play one song per performance. Sets invariably end with the track "Jesus Rising", an unholy accusatory assault driven by a primitive ritualistic beat from the two drummers.
Much more info can be found on their MySpace site .
Related Bands
Edit
Recordings
Edit
03/12/88 -

Folkestone, Bottoms
25/04/90 -

Folkestone, Heroes
22/02/91 -

Folkestone, Bottoms
27/07/91 -

Hythe, Greenpeace Festival
19/06/92 -

Lewes, All Saints Church
28/03/97 -

Folkestone, Bottoms
05/07/97 -

Brighton, Free Butt
25/07/98 -

Folkestone, Labour Hall
24/07/99 -

Folkestone, Labour Hall
17/04/02 -

Canterbury, Art College
10/08/02 -

Folkestone, Harp Club
13/12/02 -

Folkestone, Harp Club (+ Einsteifen ?)
26/07/03 -

Folkestone, Harp Club (+ Lambda Sond )
12/03/04 -

Folkestone, Harp Club (+ The Clits Of Oris )
15/07/10 - Margate, West Coast Bar (+ Jesus Fix + Tragic Millennium )
17/07/10 - Folkestone, Bar Below (+ Jesus Fix + Tragic Mllennium + Open Wrist Exile )
08/04/11 - Folkestone, Bar Below (+ Jesus Fix + The Lykes Of Yew + Balbulus )
25/10/14 - Folkestone, Quaterhouse (+ other acts inc. Warrior Squares, Flange Zoo, Hand Of Stabs)
24/06/17 - Folkestone, Harp Club (+ The Hose + Flange Zoo)
Ad blocker interference detected!
Wikia is a free-to-use site that makes money from advertising. We have a modified experience for viewers using ad blockers

Wikia is not accessible if you've made further modifications. Remove the custom ad blocker rule(s) and the page will load as expected.