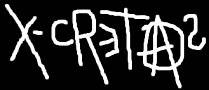 Anarcho-Punk
Gillingham, Kent
24 Aug 1980 - 1982/1983
Band Members
Edit
Trev (vocals, originally drums)
Bill (guitar)
Lawrence Windle (bass)
Peter Stratton (drums)
Don (aka D.Rummer) (vocals) was the original vocalist.
David Cubitt (aka Dee) (guitar) later replaced Bill.
Jess (drums) later replaced Pete.
Related Bands
Edit
Slug - Trev
Anthrax - Lawrence, Peter, Dee
Antisect - Lawrence
Motherfucker - Trev
Bug Central - Trev, Don
Active Slaughter - Trev, Don
Cop Car Pile Up - Trev
Recordings
Edit
1982 1st Demo
1982 2nd Demo
Ad blocker interference detected!
Wikia is a free-to-use site that makes money from advertising. We have a modified experience for viewers using ad blockers

Wikia is not accessible if you've made further modifications. Remove the custom ad blocker rule(s) and the page will load as expected.